Journey from customizable software to hardware --> Read
It all began with an x86 based machine, form factor : ATX of course a desktop machine. In real life one starts small and grows big but related to technology it was the other way round.
Some misinterpret software customization as mere customization of desktop which is also a form of customization but the real software customization is the Operating system that is customized based on the SoC like the one for GTA02 which includes the whole bunch of it like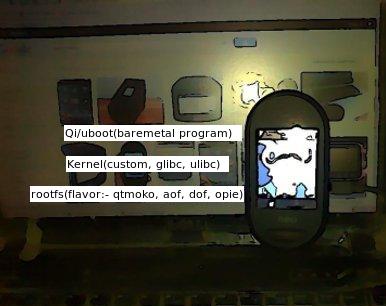 Apart from the quirky components like GPS, GSM, bluetooth, wifi, touchscreen, video(name the components used)
The first part is the bootloader, there are two NOR and NAND but the subject in discussion is NAND.
The bootloader for GTA02 has 2 options qi and uboot. Uboot is the universally accepted bootloader while qi is for GTA02 and is minimalistic bootloader. There are other accessories that come with qi namely the qi-bootloader which makes use of LAB(linux as bootloader) kexecboot.
No doubt, Kernel for GTA02 is also a customized ie for s3c2442 SoC along with the bells and whistles it can be glibc or ulibc based.
The rootfs along with all the needed accessories can be found in the list given below
• qtmoko
• DoF - debian on freerunner
• AoF - android on freerunner
• OPIE - open palmtop integrated environment
• Gamerunner
• SHR etc
Since GTA02 is a smartphone some are called smartphone userland stack which supports GSM/GPRS while very few are simply palmtop editions which doesn't have phone stack yet written like OPIE or GPE
Baremetal programming is nothing but a program written for baremetal than for an OS. microcontroller programming is also a baremetal programming
8051/Atmega32/16 or any other microcontroller one can get their hands on which makes use of ASM or HLL can be used to create a program
Microcontroller programming requires basic electronic knowledge and prototyping can be done using
• paper prototyping
• computer aided design toosl like gEDA (electronic design automation) or kiCAD
• real time prototyping can be done using breadboard
Microcontroller kit/arduino
some other names one can encounter and is somewhat related are SBC/SoC
Enter the FPGA - customizable hardware
Thought its not possible to carry out complex hardware design with mere ABC knowledge of electronics let alone the soft core design but the reference design can be made use of along with the required bells and whistles to run a customized linux on a customized hardware.
spartan 3A starter kit
--------------------------------------------------
The content along with the hardware which requires quite a bit of shillings is all about how feasible the above technology is for an individual
--------------------------------------------------